So you wanna start a podcast? I mean, who doesn't have one these days!?

As the podcast-obsessed geek that I am, I wanted to satisfy my curiosity and try some IRL training before jumping into the fray. Because let's face it: just Googling around wasn't giving me the real deal on what it takes to do podcasts well. I've been listening to podcasts since 2011 (aka, on the hipster timeline). So nearly a decade later, I decided to see for myself how the secret sauce was made.

TL;DR – The good news is there are endless opportunities opening up in the podcasting field, a lower barrier to entry with more affordable (and high quality) equipment, and an infinite number of great stories to tell.

The less-good news is that very few podcasts ever make it to the level of Serial, Fresh Air, or WTF. How few? According to Kerri Hoffman at PRX: only 1% of the estimated 600,000 podcasts have more than 50,000 downloads. (And that's the magic number of downloads it takes to feasibly monetize.)

Gulp. Good to know what we're getting into , right?
My intention with this post is neither to dissuade or hype up aspiring podcasters. Like every emerging art form, it requires a leap of faith with a dose of reality. So the tips and lessons I'll share below come from a place of cautious optimism.
I also tip my hat to the staff and speakers I met at a USC Annenberg podcast training in February 2018. Their podcastastic wisdom and the resources they shared are infused throughout this post!

Ready to dive in?
Read on… and they as they say, YMMV (your mileage may vary).


Podcasting resources/links
Recording resources

Folks suggested the Tascam DR-100MKII for field recording with RE-50 omni and Rhode NTG-2 shotgun microphones.

Other options (about $280) include: the Zoom H5 or the Marantz Professional PMD-661 MKIII. If you are doing field recordings (outside a studio), it would be best to get something with XLR inputs so you can plug in your external mics.

In a pinch, of course, you could record lower-quality audio on a cell phone. But beware: in some states (like in California where I am) there are two-party consent laws. So don't forget to get permission to record the call first! There are many apps out there, such as Tape A Call and Ringr. Other podcasters suggested Blue mics and accessories.
Editing resources

Pro tip: Fire up YouTube to get video tutorials on any of the editing software listed below. Come up for air once in a while though, because there are A LOT of videos out there.

Audacity seems the most universally beloved (yours truly included) because it is free and good. Free + good = thumbs up!
GarageBand comes with all Macs and does a fine job
Reaper can be licensed monthly for $60
Adobe Audition is fully featured at $20.99 a month (but if you already have Adobe Creative Cloud, you can get it as part of a package)
Transcription programs

Again, you'll be spoilt for choice at varying costs. A few that seem to be favorites:
More useful info and gear!

As for hosting, folks really like LibSyn. LibSyn's been there since I can remember, and is the industry standard. They have good help files, knowledge base tips, and a robust community, too.
Tons of new services are out there emerging in what folks are calling, "the third wave of podcasting". Even Spotify is getting in on the podcast action by buying up startups like like Anchor.

Some good gear to consider:

Acoustical foam cube – apparently, it helps filter out background noises. Suggestion: Pyle's Sound Recording Booth Box Studio Soundproofing Foam Shield Isolation Filter Cube (say that three times fast). It looks pretty cool though!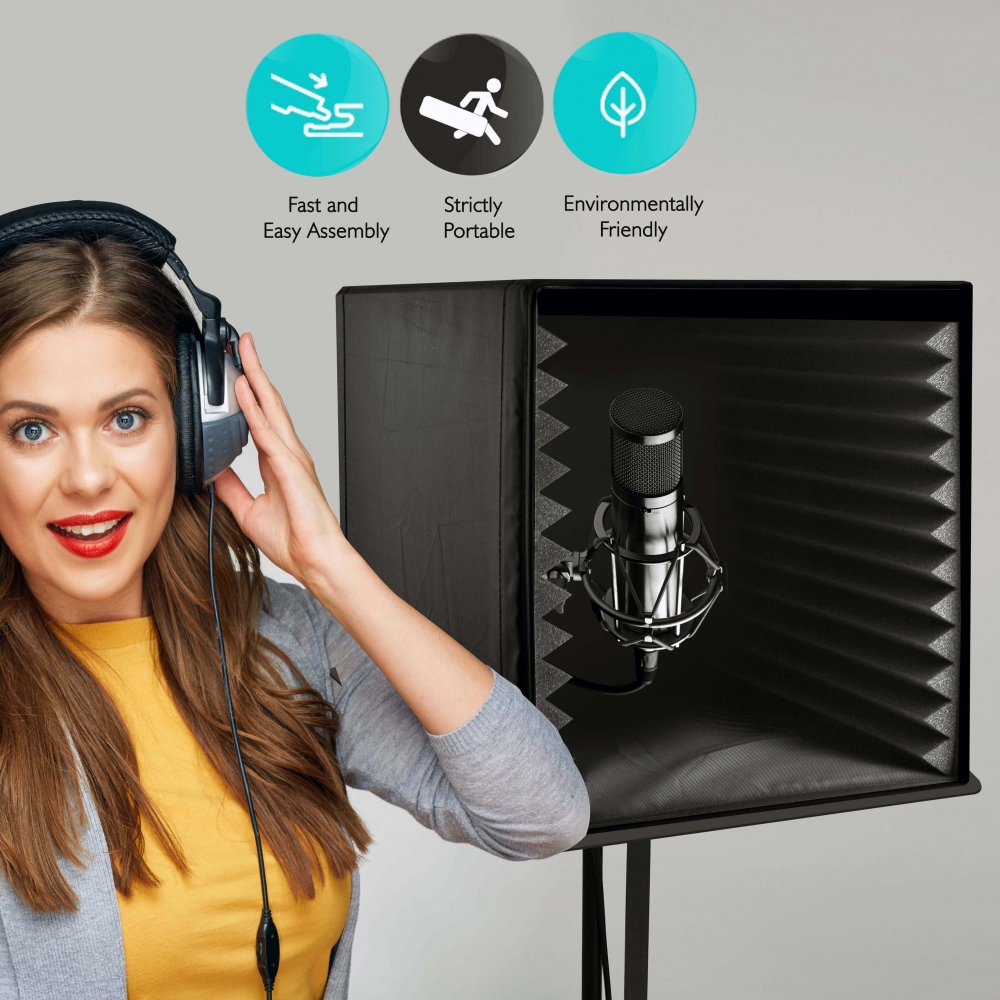 Sony MDRZX110/BLK ZX are a must for headphones. Earbuds will not cut it for the right audio quality you need. At only about $15, these are a steal. It made me feel like a pro to wear 'em.
You might need a USB Audio Interface like the Scarlett 2i2 to use two mics at the same time. I saw these up close, and it's pretty dang cute!
And lastly, a few other nuggets of podcast wisdom:
Making podcasts as a hobby is different from trying to monetize/make a living off them (see the 1% stat in the beginning of this post)
Local podcasts (about a small geographic location) are more difficult to make successful. Consider expanding your scope to the state or national audiences.
Take a digital marketing class to get the basics down
Frequency is important. One-off podcasts aren't successful. Most folks can aim for about 20-24 episodes per year. Or you can have multiple "seasons" a year, with say, 5-6 episodes per season.
It is super important to invest in good, high quality designs for your podcast episode art (and also your podcast icon/logo). Get creative and colorful.
Also super important is how you title your episodes. Use descriptive language (the themes or topic, or the names of the guests). Don't use random numbers or dates. Also, don't use colons in the title (I forget why, but it's a technical thing that messes things up).
Make sure you realistically take into account how much time it takes to produce one episode (plan, script, record, edit, create the art for the website, upload, promote on social media, etc). It adds up quick, and was a lot more work than I thought. I suggest you literally count up the hours it would take to do these tasks, and plan (your life) accordingly.
It is KEY to ask yourself some hard questions about your goals for making a podcast. Be as clear as possible before you invest hundreds of $$$ in equipment.
Good questions to ask when planning your podcast:
What's the 1-2 sentence description of your show? (aka elevator pitch) If you can't describe it succinctly, rethink!
Does this podcast meed an unmet need? Are there similar podcasts? If yes, how will yours be different?
What do you want people to get from listening to it?
Who are your target audiences? And no, "the general public" is not a singular audience. Get super specific.
What format are you using? Interviews, storytelling, fiction, commentary, panel discussions, etc.
How long is each episode? Folks suggest 20-30 minutes is a good place to start.
How often will you post episodes? Whatever you chose, be super consistent. Weekly, monthly, or bi-weekly are standard.
Do you need other people to help? Producers, reporters, hosts, researchers, talent bookers, editors, audio engineers, etc.
Thanks for reading along this far. Whew, we made it!

I'm sure there are many more things I wasn't able to fully cover, but this is hopefully a good start. Feel free to post some questions or tips of your own in the comments below!